Ariadna Vendelová | performing artist
aerialist, dance performer, choreographer, teacher
Invitation
ANAM – New experimental solo dance performance in nature – Dance on a Tree
NEW DATE: June 21st 2022 at 6pm
on the meadows above Košice, Slovakia (near Kavečany district)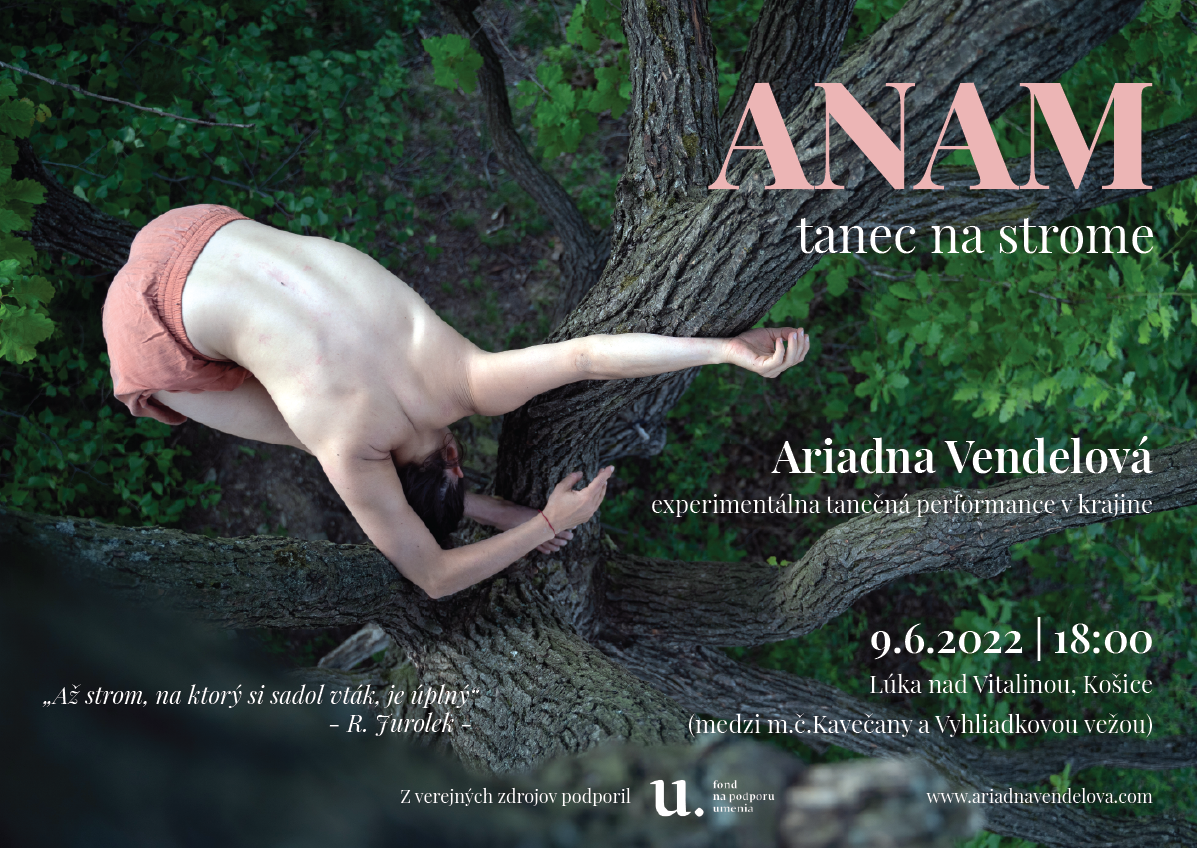 .
Srdečne Vás pozývam už budúci týždeň na ANAM – nové experimentálne tanečno-pohybové performance v krajine.
Mojim zámerom je priniesť tanečné umenie bližšie k prírode.. nie len ideovo a koncepčne, nie len o enviromentálnych témach hovoriť z pohodlia veľkomiest.. nie len teoretizovať a špekulovať…
Pozývam Vás dotknúť sa Zeme, dotknúť sa Stromu, jeho kôry a lístia. Počúvať Vietor, načúvať Krajine, a na moment so mnou zažiť Tanec na Strome… Ak ľudské telo je súčasťou prírodného sveta, kým sa v 21.storočí stala ľudská bytosť?
V utorok 21. 6.2022 o 17:45 sa stretnime pod krásnym veľkým dubom, solitérom, na lúke nad Košicami, medzi m.č. Kavečany a Vyhliadkovou vežou – pešo sa tam dostanete chôdzou 10min. nahor ponad chaty/domy z autobusovej zastávky Vitalina alebo Budanova autobusovej linky č.29 (z centra smer Kavečany)
Performance: Ariadna Vendelová
Sprievodný text od Lao-c': Tao-te-ťing
Foto: Miroslava Šárová ::: photography
Plagát: Jan Juhaniak
Projekt z verejných zdrojov podporil Fond na podporu umenia.
Ďakujem.
Ako sa dostať na performance ANAM?
The route to ANAM.
Autobusom MHD č. 29, z centra smerom na Kavečany, ideálny odchod z mesta okolo 17:00, vystúpte na zastávkach:
Vitalina
Budanova
Kavečany
a smerujte nahor na lúku. Strom ANAM sa nachádza medzi Kavečanami a Záhradkárskou oblasťou pri Vyhliadkovej veži.
Welcome.
Ariadna Vendelova is an aerialist, dance performer, choreographer and teacher working internationally around Europe, as well as locally within the community in the city of Košice, Slovakia, where she is based. She is a founder of an arts community platform Ariadnina Niť, a a co-founder of Lalyra Company and Lalyra Academy, an acclaimed local aerial dance studio.
She is an aerial artist researching within the field of aerial dance and new circus, specialising in aerial silks. Her movement quality, creative focus and holistic approach to movement arts have been deeply influenced by yoga, dance improvisation and nature, as well as by her experience of motherhood, by feminism and by artistic and geographical isolation within the genre.
She has worked, performed and taught at events, festivals and studios around Europe, working with artists in and beyond the field. Her most current works include a short dance film 'A few decades of dying' (2021), shows All My Skirts (2019), In the Wind (2019), Birds (2018). Her current work on three site-specific experimental aerial movement performances Anam (dance on tree), Inner Spaces (movement installation on metal staircase) and 'O Jankovi Polienkovi' (community aerial dance show for children) are supported by schollarships and grant funds of the Arts Council of Slovakia. She co-currates Cat's Paw Experimental Aerial Dance Meeting together with Emily Aoibheann.
Ariadna is also a poetess, currently working on creating a publication platform for poetry of women Moje More, a yoga practicioner and teacher, and a passionate advocate for enviromentalism, calling for the return to Nature in the physical, ecological and spiritual sense of the word.
A Few Decades of Dying / short dance film 2021
inspired by the theme of isolation trauma experienced during the Covid pandemic
All My Skirts - solo show 2019/2020_trailer
In the Wind - aerial silks solo 2019
Birds - group piece with Lalyra Company 2018
Last of Me - aerial silks solo 2016